by Guy Page
The Chester town librarian has resigned over pushback from the library board about her plans to hold a Drag Queen Story Hour on June 4, the Chester Telegraph reports.
The Chittenden Solid Waste District will be seeking approval from voters in member municipalities for a $22 million bond on Election Day in November, CSWD officials told The Morning Drive on WVMT this morning. 
The Vermont Dept. of Health has a web page offering tips for parents searching for baby formula. The list of "don'ts" include watering down formula, homemade formula, and substituting goats milk. Ordering online is okay but be careful, VDH advises.
Sen. Pat Leahy (D-VT) yesterday verbally bashed Sen. Rand Paul on the floor of the U.S. Senate for slowing down the eventual passage of $40.1 billion in aid for Ukraine and "global food aid," and lamented the Senate won't spend more to fight Covid-19.
Vermont's muzzleloader season antlerless deer permit applications are available online at Vermont Fish and Wildlife's website and from license agents. Hunting for antlerless deer will be allowed statewide during the archery season.  One deer of either sex will be allowed during the October 22-23 youth and novice weekend hunt. The muzzleloader seasons on October 27-30 and December 3-11 will have antlerless permits available for 19 of Vermont's 21 Wildlife Management Units.
Gov. Scott and Rep. Peter Welch were scheduled at noon today to announce over $16 million in broadband construction grants that will bring fiber broadband speeds to residents of Bolton and several towns in the Northeast Kingdom.
from Monday, May 16 –
Two state employees were fired and one resigned for refusing to follow the state's mandatory Covid-19 vaccination policy implemented in 2021, a state official reportedly told the Burlington Free Press. 8,575 state employees attested to full vaccination, 622 did not and needed to mask and test. Three employees were suspended without pay, one was reprimanded, two were fired and one resigned rather than comply.
Four Vermont Planned Parenthood clinics to close next month – Bennington, Hyde Park, Middlebury and St. Albans – "to ensure the organization is sustainable," the state's largest abortion provider announced last Friday the 13th of May. The Newport clinic closed in February. "We have made the difficult but strategic decision to close five of our part-time health centers effective June 12," said Kai Williams, Senior Vice President of Health Care Delivery. PPNNE will expand its days of operation at Barre, Brattleboro, and Williston.
Property taxes to decline 9% – According to the Campaign for Vermont, the Joint Fiscal Office projects that the "yield" (don't ask, it's way too complicated) set in H737, the school tax bill, will result in a statewide average tax rate of $1.385 and an income tax rate of 2.32%, a decrease of about 9% from last year.
Reduced pay for Corrections staff – A pandemic-related recruitment and retention package of shift bonuses created last August expired April 24 and will not be renewed, according to the Vermont State Employee Association newsletter. Bonuses had been given for a broad range of shifts, but now apply only to overtime, weekend, and holiday shifts.
Friday May 13 –
Sen. Chris Pearson (D/P – Chittenden) will not seek re-election, he announced on Twitter yesterday. "Today I have started to let people know I will not be seeking re-election. It's been an incredible honor and a great challenge to serve in the House & Senate. In some fashion I've been part of every election cycle since 1998 and it's time to do something else."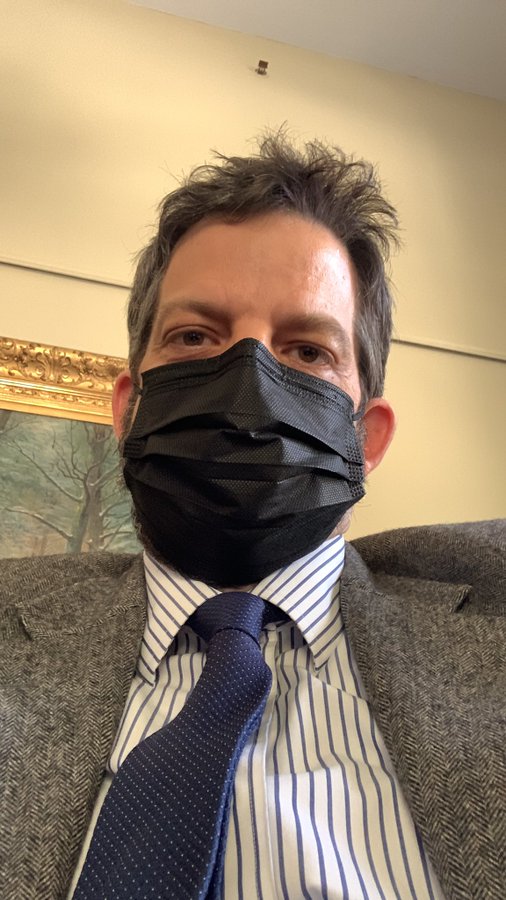 Windham County Senate vacuum – With both Sens. Becca Balint and Jeanette White not running for VT Senate again, there are (so far) two Democrat candidates and one Republican. Former Rep. Nader Hashim of Dummerston and social justice advocate Wichie Artu of Athens have announced they're running as Democrats, the local newspaper The Commons reported May 4. Longtime GOP activist Rick Morton will run as a Republican.
Addison County Sheriff Peter Newton won't run for re-election, he announced in an online video, according to the May 5 Addison Independent. The announcement reportedly came days after media reported on an Feb. 26 domestic disturbance at Newton's home. He reportedly said in the video (which is no longer public) that he will go into construction with his sons, and that it would be better for his mental health if he leaves the law enforcement profession.
Two iconic advertising pitchmen living Vermont have made an ad to sell pajamas to benefit Make-A-Wish. Jonathan Goldsmith, The Most Interesting Man in the World for Dos Equis beer, and Tom Bodett, who kept the light on for you at Motel 6, have created a video for PajamaGram to raise money for Make-A-Wish. Goldsmith has a home in Manchester, and Bodett lives in Dummerston.

The most dangerous street in Vermont may be Valley Street in Springfield. While investigating the third in a spate of recent shootings, state police found that Paul Lachapelle Jr., 26, of Valley Street was in possession of brass knuckles and in possession of heroin. He was arrested and is due to appear in court on both charges. They also found and arrested a woman wanted for aggravated assault and reckless endangerment. Pelkey arrested Krystal Pelkey, 35, of Springfield on Valley Street without incident. She's being held on $500 bail.