by Karlyn Borysenko
Excerpts republished from Actively UnWoke Substack column
Last year, I worked with my community of volunteers to expose the public schools in Burlington Vermont were grooming 12-year-old children on the internet. The story gained national media attention.
Just a few months back, we learned that the schools doubled down, forming an LGBTQ+ task force that has (among other things) instituted a checklist in the K-12 public schools in the city to make sure they have enough LGBTQ+ flags and flare in their classrooms.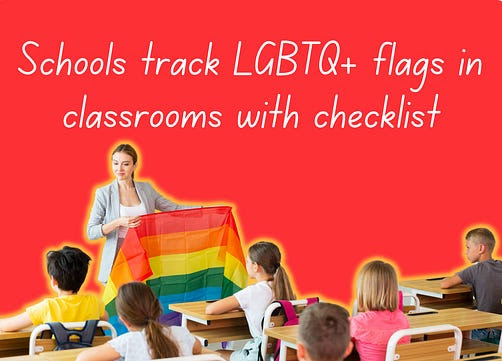 And now we have the next chapter in the ongoing dystopian soap opera that is the Burlington Vermont public schools: They are reviving their annual equity workshop series, except they've learned a thing or two from the last year and are now holding workshops in person and refusing to allow the public to record them (one might wonder what they are so afraid of us seeing).
However, they did do us a favor and put their slide decks online for the first two workshops that have already concluded. Another workshop is scheduled for March 8 at Flynn Elementary School. If you're in the Burlington area and would like to drop by, please email me at activelyunwoke @ gmail.com and let me know.
Allow me to walk you through the highlights. You can find PDFs for the slidedecks (just in case they delete them from their website) over at The Burlington Project, a substack dedicated to documenting the first city in America built entirely on equity.
They want to be the national model for LGBTQ+ activism in schools
I've argued that the reason we all need to pay attention to Burlington Vermont is NOT that we can save them from the far-left ideology that has permeated their public life…but because we can't save them. Burlington will be a city built entirely on equity, in public schooling, and in the community, because that is what the vast majority of people in the community want.
Our purpose is to understand what happens when a community organizes itself around these ideas. It will either grow into the utopia that all dream it will, or it will become a dystopian warning.
Burlington sees itself as a school system that will provide a national model for how to address LGBTQ+ activism in schools:
The author is a Williamstown native who now publishes Actively Unwoke, an influential online publication challenging current trends in transgender education in schools (among other things).